Rantum Scoot is a Hunter 1998 410. Built by Hunter marine Corporation of Alachua FL. We bought her on Long Island NY in 2001. We sailed her up to NH in April of 2002 for some fitting out for the trip.
Several merchants were helpful in the fitting out process. The number one favorite was Jackson's Hardware in Kittery Maine. We bought all kinds of things from them as well as benefiting from their experience Janet, Lisa and Dan were a big help, Thanks
We also required a number of electronic items from VHF radios to the satellite phone. For this stuff we turned to Portsmouth NH based Navtronics. Christy made sure we got what we needed and Tim has been there for us for technical support of our installation and little problems, Thanks!
Last but not least is Jack Rabbit Marine in CT. We bought the inverter, link monitor and solar panels from them. They are helpful, patient and will give you technical support during your installation.
New equipment installed included:
Water Maker
Inverter
Link Battery Monitor
High Frequency radio
VHF radio with remote mic. at the helm
EPIRB
life raft
mast mounted cell phone antenna
GlobalStar satellite telephone
3-Stage voltage regulator for main engine alternator.
Towards the end of the fitting out process we took a minor lightning strike which fried our new inverter and radar. We replaced both units.
See pictures of the interior below.
This is the layout
Specifications
LOA

43'5"

13.23 m

Hull

41'1"

12.52 m

LWL

37'10"

11.54 m

Beam

13'10"

4.21 m

Draft (shoal)

5'0"

1.53 m

Draft (deep)

6'4"

1.93 m

Displacement (shoal)

20,200 lbs.

9,171 kg

Displacement (deep)

19,500 lbs.

8,853 kg

Ballast (shoal)

7,400 lbs.

3,360 kg

Ballast (deep)

6,700 lbs.

3,042 kg

Mast Ht. (fr dwl)

58'5"

17.80 m

Sail Area (actual)

875 sq ft

81.38 Sq m

I

47'9"

14.56 m

J

16'2"

4.93 m

P

45'5"

13.84 m

E

19'3"

5.87 m

Headroom

6'6"

1.98 m

Fuel Cap.

50 gal.

189 l

Water Cap.

145 gal.

549 l

Holding Tank Cap.

45 gal.

205 l

Water Heater

6 gal

23 l

Aux Power (FWC)
Std. Diesel
56 hp
41.44 kw
CE Classification

A

A
Watermaker:

It doesn't really "make" water, rather the unit is a reverse osmosis sea water desalinator. It forces salt water through a membrane that will not allow solids such as salt to pass. We spent a great deal of time studying watermakers before we finally bought one. The decison was tough! We looked at all kinds of units 12 volt 110 volt complete units or component systems. We needed to make quite a bit of water owing to the size of the crew. Though a majority of the crew fights taking showers we still run through quite a bit.
We opted for a 110 volt system from US Watermaker in Tacoma Washington. The price was right but we have been VERY disappointed with the service. We opted for an argus control package that would sample the water constantly and divert it overboard until the water was of sufficient quality. The same control also doesn't allow product water to enter the tank when you first start up. Turns out we really didn't need that option as we have to be "under the hood" during start up of the watermaker anyway. The other problem is that despite promises by US Watermakers the unit draws too much electricity during it's start up. That has caused us to have to rewire the unit so that it won't shut down when the high pressure pump is turned on. This renders a portion of our electronic control system useless.
US Watermakers lost interest pretty quickly after some troubleshooting. I have yet to receive all of the parts I paid for. It makes great water and I would buy from them again but now I know what I need and how it works. Their systems are industrial strength and we expect it to last.
We installed a Heart Freedom marine 3000 inverter. As part of that it has a 140 amp battery charger. This charger is great it charges very quickly on shore or generator power. The inverter allows us to convert 12 volt DC power into 110 volt AC power to run appliances like the microwave, charge batteries on phones, computers and so on. It's been very good so far and we're glad we went for the bigger one.
We had a Link 20 on our last boat so we felt naked with no battery monitoring on this boat. This monitoring system keeps track of your battery usage and how much charge has been put back into the batteries. It's invaluable as it shows just how many amp hours you have used or put back in. We installed the Link 1000 it monitors the house bank only and also controls the inverter charger.

Hi Frequency (HF) radio (marine SSB or HAM) has been a mainstay of long distance marine communication for a very long time. It has yet to be replaced as a very reliable time tested means of communication. There are quite a few radio communities called "nets" that people check in with, describing problems or points of interest they have discovered while voyaging. These nets have an official start time and then a moderator of sorts.
Another net is Southbound II on 12359 KHZ in the afternoon. This gentleman from Canada runs a weather net in the afternoon where he updates boats all over the Atlantic, Caribbean and parts of the Eastern Pacific on weather and he makes routing suggestions.
We installed a Yaesu FT-100 radio with a 17ft whip antenna tuned by an SGC auto-tuner. Thanks to KA1GJU Kriss Kliegle for the help and advice on the install.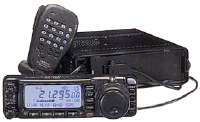 Our last boat had a VHF and it was down at the Navigation station. This was a real pain since you drive the boat from the cockpit. So we had a handheld that we would use. Of course it was less powerful and had a very small antenna. On this boat we wanted to have a fully functional radio at the helm. The boat had a quality ICOM radio installed in the console but it was in a horrible location. We couldn't move it without leaving a big hole in the console and it still left us no radio below decks. We opted to install an ICom with remote mic. It allows the helmsman and whoever cares below to hear what's going on as well as listening to weather when sitting below on the hook. So far we like the unit but occasionally we get reports of a loud hum when using the cockpit mounted remote.
Emergency Position Indicating Radio Beacon this is a new generation unit operating on a frequency of 406mhz and 121.5 mhz. The 406mhz frequency allows your position to be determined by satellites and the 121.5 mhz is for homing in on you with rescue boats or helicopters. Needless to say this piece of emergency gear is worth it's weight in gold should your situation become dire and/or it becomes time to abandon ship.

We ended up with a Givens Marine Survival Co. 6 man self inflating life raft. If we do need to use it it inspires a great deal of confidence. It has double tubes for height, doubled floors to keep you off of the ocean water and delay onset of hypothermia. It has a full canopy with boarding door and rain catcher. The bottom of the unit has a huge ballast bag that fills with water to stabilize the raft and keep it from flipping over. The life raft is also stocked with emergency rations, water, first aid kit, knife, light, signal mirror etc. We also have a lot of other things that make up a "ditch bag" that we would take with us in the event of abandoning ship.
We have the HF radio and the EPIRB but the last piece in our communication puzzle was the satellite phone. We felt as though it was a reasonable way to be more sure that we would be able to contact friends and family if we were out of range or if trouble arose. We can also do data over it with the data kit we purchased. This allows access to email and weather far out of cell phone range and more simply than the HF. We can use the HF for weather but not email.
We opted for the GlobalStar after comparing it to Iridium. It has much faster data transmission. It does have some restrictions in global access but for our cruising area it's just fine. The rates have recently come down significantly making it an affordable piece of communication gear.

We were planning to install a high output alternator and 3-stage regulator. As we were fitting out we of course spent more than we planned and we started trying to figure out what we could live without. As luck would have it I was on a layover in San Diego and as usual was walking the docks. I met a couple with a great deal of world cruising experience. We talked about a lot of things but when it came to the high output alternator this guy said check out the Sterling power booster. It's a 3 stage regulator that installs on any alternator leaving your original regulator in place as a back up. It required opening the alternator up and installing a couple of wires on the brushes then reassemble and connect a handful of wires. It approximately doubled the output of my alternator. What I mean is that the alternator was being regulated down to about 30 amps even though it is an 80 amp alternator with the old regulator. With the new regulator I see 55-60 amps initially and it is at least 35-40 amps during the bulk charge phase where the OEM regulator would have it down to 15-20 amps